What is a dough bowl candle?
A dough bowl candle has become a very popular part of modern-day farmhouse decor and is simple to make. This natural rustic container is easy to work with and can be used over again.
Many people buy a refill candle wax kit or use it as a centerpiece. These containers are a natural part of farmhouse decor and fit in well with knife marks as they are hand carved. And, with minor cracks lend to a look of rustic primitive candles.
All candles require testing. I have included affiliate links to help you in your candle-making journey. We may earn money or products from the companies mentioned in this post via affiliate links to products or services associated with content in this article.
To make doughbowl candles you will need:
Fragrance Oil
Candle Wicks
Wick Centering Tools
To make dough bowl candles:
The dough bowl can be used natural or stained. (Stain first if you want a different color).
Prepare the dough bowl by attaching the selected wick.
Melt the container candle wax in the pouring pitcher in a water bath over medium heat to 185 F.
Remove the wax from the heat and add the fragrance oil, let cool to 135 F.
Pour the candle wax into the dough bowl. (Let sit overnight to completely firm up.)
Align the wicks centered to the bowl sides if using cotton.
You may need to seal the bowl before you make the candle. If you would like a specific color such as a whitewash or a darker wood do that for at least a few days before making the candle.
Because wood does not conduct heat, the container candle wax poured at a lower temperature will congeal on contact with the surface of the bowl and not leak through.
If you are nervous and choose to seal the bowl to make sure it does not leak or reduce the risk of fire, seal with a flame retardant like this ⇒ https://flameseal.com/products/wood/wood-seal-a/
If you have issues with the candle waxes such as the GB 464 pouring at a lower temperature, do some testing to see if you can pour a little hotter without the bowl leaking through.
You can go back like other container candles and touch up with a heat tool. I add 10% paraffin to reduce frosting and rough tops to help with this.
How much wax do dough bowl candles hold?
Mine was a medium-size bowl I bought from eBay and held about 14 ounces. Here is the article I wrote on how to calculate how much wax and fragrance oil you need.
Selecting the Correct Wick Size for a Dough Bowl Candle
The wick size for a dough bowl candle follows the same rule as a candle for multiple wicks. The wicks will be lined up with the length of the bowl.
The wick size is determined by the width of the bowl. When I performed the candle testing for this, I chose wicks that produced the largest melt pool without reaching the edge.
It is important to keep the melt pool at least 1/8″ from the edge of the bowl so that the bowl does not leak as it is burned.
"Over wicking" this candle can create a mess, and a candle will burn fast because the wax will escape. Make sure to do testing on your wicks.
If you are uncomfortable with the possibility of this candle leaking, it is worth the extra effort to seal the outside of the raw wood. Use a sealer on the outside of the bowl so as to not change the look. Wax can also naturally seal raw wood as long as it remains cool enough.
I have used Modge Podge to seal the outside of the candle before without issues. Bowls are made of a natural wood product.
Are dough bowl candles safe?
Yes. This candle and the wick selected are intentionally selected to burn at a lower temperature with a medium flame. It should not be an aggressive melt pool traditionally seen. Never leave a candle unattended.
Attaching a wick to a dough bowl can be tricky. Hot glue or glue stickers may not always stick or stay. I made a video to show you how to use tacks to hold them in place. Place a tack on each side of the wick tab to secure the wick to the bowl.
How to package a dough bowl candle
Dough bowl candles look nice with a natural twine ribbon tied and a tag attached in the middle. It can be wrapped with tissue paper and placed in a box with bubble wrap to protect it during shipment.
To keep these fresh a little longer you may want to store them in a basket-type shrink wrap poly bag.
These also make a great homemade gift and can be made shortly before needed. They store well like most candles but I would protect them from dust and overhandling.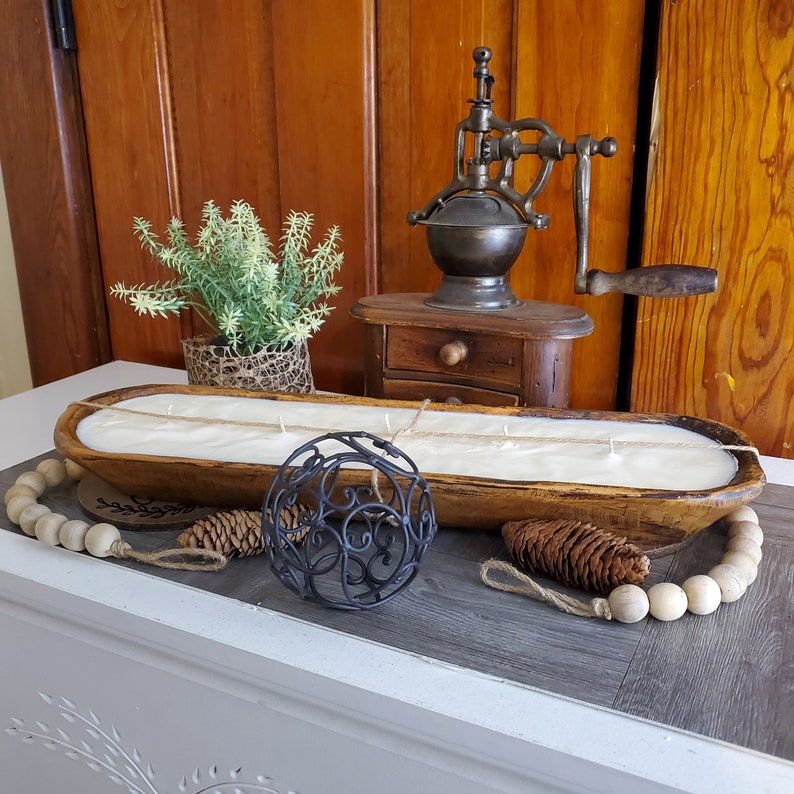 Dough bowl candles can come in different shapes and colors to match your décor or purchase for gift-giving.
The primitive decor and hygge theme candles have become very popular. This cozy look fits most homes and tastes. They can be refilled or used as a bowl.
Over time they may crack and split but can be used for other things. That's ok it's a rustic look!
How to re- fill your dough bowl candles
Refill Kits are fun and easy to use. Designed to refill your candle bowls once your bowl is empty. These kits can be used to refill any vessel you have. Perfect for an easy DIY home project!
Click here to purchase your kit today!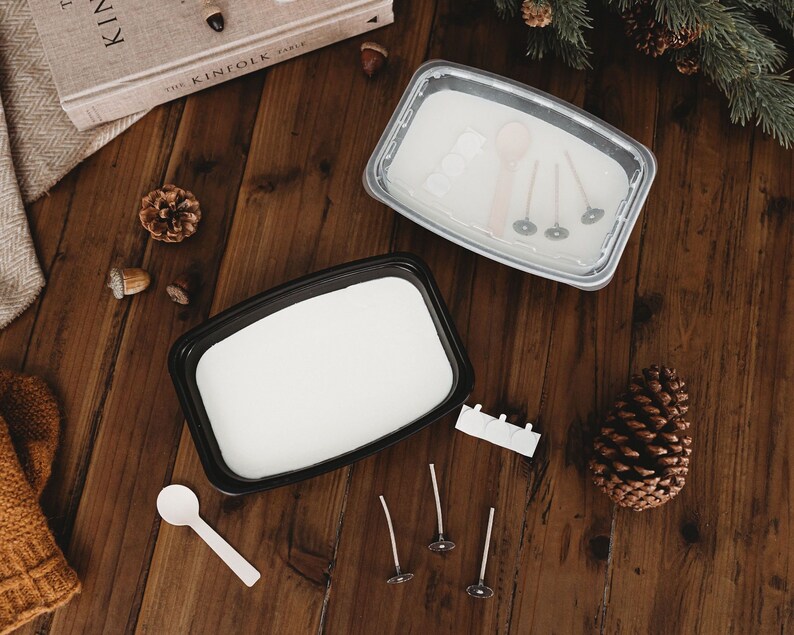 Where to purchase bowls wholesale, including heart shape – click here